Back the Badge Night- Fundraiser for Sgt. Houston Gass, Pampa PD (2015/01/31)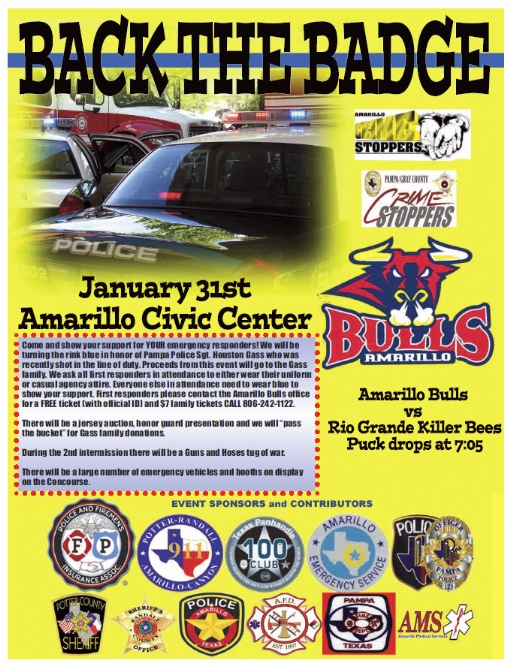 ---
PGCCS Recognized by Governor's Office as most productive organization our size (2014/10/10)
Thursday night, October 9th, 2014, Pampa/Gray County Crime Stoppers received recognition from the Governor's office for having the highest dollar recovery and most cases cleared for a Crime Stoppers organization serving a population under 25,000.

Each year, thanks to grant funding provided through court costs and fees, not tax dollars, we are able to send a large portion of our Board of Directors to the state conference, which changes location across the state each year. This is a way to ensure our members are trained on the best practices for running an non-profit organization such as ours.

Thanks to Crime Stoppers organizations across the state, we are able to bring closure to victims of crime. Crimes that would otherwise go unsolved. We thank the community for giving our program the success it has had this year. Without the community, we don't have tips that point law enforcement in the right direction. Without the community, we don't have members to run the organization. Crime Stoppers is you, the community, working with law enforcement and the media to solve crime.

This year, we, the people, we the community, should be proud of our success. We together out performed all of the other organizations across the state who represent a population of our size.

If you wish to be a part of our success, to have a chance to make a difference in our community, we encourage you to attend our next board meeting which is held on the second Thursday of each month at 6:30 pm, in the Pampa/Gray County Crime Stoppers Board Room located at 816 S Hobart. Please feel free to contact Police Coordinator Brian Massey at (806)669-5700 for additional information about joining one of Texas' Best Crime Stoppers organizations in the State, Pampa/Gray County Crime Stoppers, Inc.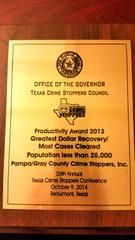 ---